About Us
Meet the District Attorney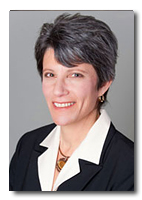 Jill Ravitch is the first woman to serve as District Attorney in Sonoma County. She took office in 2011, and is now serving her third term. A graduate of UC Berkeley, Ms. Ravitch attended the University of San Francisco Law School, and upon graduation in 1987 began her prosecutorial career at the Alameda County District Attorney's Office.
Ms. Ravitch moved to Sonoma County in 1990 and joined the Sonoma County District Attorney's Office where she earned recognition for her prosecution skills, handling many complex and high profile sexual assault, domestic violence, gang violence and homicide cases.
Ms. Ravitch left briefly for private practice but soon returned to the courtroom as Chief Deputy District Attorney in Mendocino County, before winning election and returning to Sonoma County as District Attorney.
During Ms. Ravitch's first term she opened the Family Justice Center, dedicated to providing wraparound services to victims of family violence, sexual assault, elder abuse and child abuse. She also established a dedicated elder protection unit and began an adult truancy program to hold parents accountable.
Under Ms. Ravitch's leadership the Human Trafficking Task Force has become a model for other counties due to the collaboration of many agencies to engage in outreach, prevention and prosecution of offenders. Ms. Ravitch serves as an advisory member on many local boards, and is an adjunct professor teaching criminal law to first year students at Empire Law School.
Mission Statement
The Sonoma County District Attorney's Office is dedicated to providing the members of our community with a safe place to live by holding the guilty accountable, protecting the innocent, and preserving the dignity of victims and their families. We shall seek truth and justice in a professional manner, while maintaining the highest ethical standards. In pursuit of this mission, the District Attorney resolves to:
Promote a work environment that emphasizes high ethical standards, professionalism and competent legal representation.
Establish an atmosphere of compassion, trust and mutual respect.
Maintain public confidence by creating a day to day operation that is efficient and effective.
Provide training for employees and education for the public to be knowledgeable about the administration of justice.
Create and maintain open communication to promote the best interests of the community.
Encourage an environment that is positive and courteous among employees and members of the public.
Collaborate with law enforcement and community groups to deter crime.
Ensure the rights of victims are upheld with dedication to treating victims with dignity, respect and compassion.
Employment Opportunities
Employment with the Sonoma County District Attorney's Office offers excellent opportunities for growth and development, benefits, and competitive salaries. It also provides the personal satisfaction and fulfillment that comes with knowing you are contributing essential services to the citizens of Sonoma County.
In addition to prosecutor positions, the office employs Victim Advocates, Support Staff, Claims Specialists, Investigators and Legal Assistants.
All applicants must pass a criminal background investigation prior to appointment due to the need for access to law enforcement, detention or correctional facilities records or information systems.
Sonoma County is an Equal Opportunity Employer - Apply online
Law Clerk Internship
The Sonoma County District Attorney also offers opportunities to work as a Law Clerk. We have both paid and unpaid internships available. Prior to beginning work as a Law Clerk, all applicants must have completed their first year of law school and a course in criminal law. It is preferred that applicants will have completed, or be enrolled in, criminal procedure and evidence.
Please send a letter of interest and a current resume to:
Administrative Services Officer
Sonoma County District Attorney
600 Administration Drive, Room 212-J
Santa Rosa, CA 95403
Organization Chart