Fentanyl Awareness Campaign Expands to Press Democrat
Published: May 31, 2023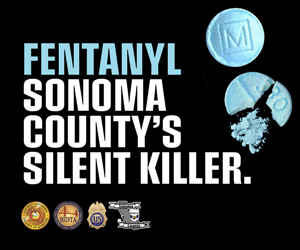 The Sonoma County District Attorney's 'One Pill Can Kill' campaign was recently featured in an article on the Press Democrat.
The opioid crisis has affected hundreds of thousands of people across the United States, and the rise in opioid-related deaths, specifically those caused by fentanyl abuse and overdose, is staggering. According to the CDC, in the period from January 2020 to January 2021, overdose deaths involving synthetic opioids rose 55.6 percent, primarily from illicitly manufactured fentanyl.
Read more on the Press Democrat's website about how to spot warning signs and dangers of fentanyl use>>
Or visit our One Pill Can Kill website for for information on counterfeit prescription pills containing fentanyl, general information relating to fentanyl, treatment alternatives, and anonymous tip lines to law enforcement agencies within Sonoma County.